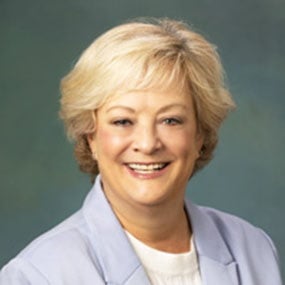 Linda Jo has been in the mortgage industry since 1995 and previously owned a mortgage and insurance agency in Nebraska. She brings extensive experience and knowledge to the home buying process, from first-time home buyer counseling to credit improvement assistance to prepare buyers for home ownership. Linda Jo is well versed in all lending options from VA to FHA to Conventional Loans.
Linda Jo is also a Certified Mortgage Planner (CMP). She is passionate about helping her clients get the best financing options available and prides herself on exceptional customer service by keeping her clients informed each step of the way.
Linda Jo is a veteran of the Army and is proud to have served her country as a journalist and Captain. She also graduated from the University of Nebraska with a bachelor's degree in journalism and from American Military University with a master's degree in leadership.
In her free time, she enjoys spending time with her son Tanner and taking her grandsons, Greyson and Noah, to the beach with her standard poodles, Lania and Luke.
At Old Point Mortgage, we offer trusted, transparent and responsible lending. Each of our loan officers is registered in accordance with the Federal Government's S.A.F.E. Act, and we adhere to a strict no-steering policy - offering you peace of mind from a professional lending source. Our goal is to find you the best possible mortgage loan to suit your immediate needs.
Contact Linda Jo for all your mortgage loan needs!