Easy Cost Efficient DIY Home Improvement Ideas
By:
Old Point Bank / 09 Jul 2020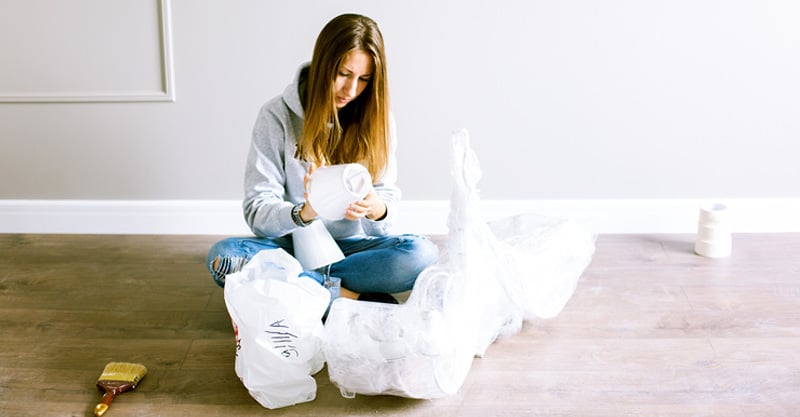 Many of us are spending extra time at home, so now is a great time to improve the quality and value of your home. Here are some DIY home improvement ideas to increase equity.
Add a fresh coat of paint. Painting a room will instantly make a noticeable difference by covering up stains, dents and scuffs. A new color will give a room a completely different feel, however if you are planning on selling your home it is best to stick to neutral colors. Make sure that you use painters tape and rags to avoid getting paint on the floor or furniture.
Refresh your driveway. The driveway is the first impressions people see when approaching the home. First you need to clear your driveway and patch any cracks. Then you can add a fresh coat of paint to make your driveway look new.
Replace or paint doors. A new or freshly painted front door can completely change the look of your home. You can also paint the outdoor shutters and trim to match. Your other doors may have some wear and tear. Some doors can be painted to cover up scuffs and dirt to look brand new, while others may need to be completely replaced.
Remove all stains and strong odors. Now is a great time to do some do some deep cleaning of the entire house. Your house may have smells that you do not notice, so it is a good idea to use a carpet cleaner to clean all carpets and floor mats.
Replace or update sinks. Replacing a sink is an easy DIY project to accomplish that will greatly improve the look of any kitchen or bathroom at a low cost.
Replace old grout. Grout is extremely difficult to clean as stains soak into it. If you want your grout to look clean or a different color, you are best off scrapping out the old grout with a putty knife and then replacing it with new grout.
Update outlets and switch plates. You can update your outlets and switch plates quickly and at a low cost. Some outlets and switch plates can also have new features and can give a new look to your walls.
Refresh your deck and porch. You can pressure wash, sand and paint your decks to make them look like new. You can also replace or refinish old patio furniture, umbrellas and seat cushions.
Be sure not to take on any projects that are too large, time consuming or out of your skill level to complete.
Plan for a longer wait at hardware stores as they are crowded with more people having time to work on home renovations. Be sure to check for curbside pickup and adjusted hours of operation.