Categorize Your Spending to Help Manage Your Budget
By:
Old Point National Bank / 08 Dec 2021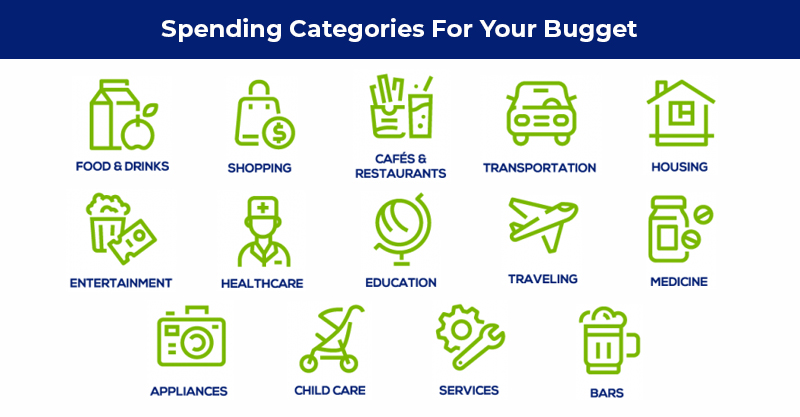 It is extremely difficult to reach savings goals without having a well-organized budget. To help plan and organize your budget you should categorize your spending to see the whole picture of your spending and saving habits to reach your budgeting goals.
Our Personal Financial Management Tools available through our online banking gives you the ability to categorize your budget to help manage your budget, improve your spending habits and more.
Click here to read more
Below are recommendations for budget categories:
Cost of housing- This category is typically one of the biggest expenses for most. The recurring or planned expenses would include your monthly mortgage payments, rent, HOA fees HOA or Condo Fees. Do not forget about other costs such as insurance, maintenance, and repairs.
Transportation Costs- This category can add up with car payments, gas, insurance, parking, registration, property tax. Do not forget to budget for expensive repairs and maintenance.
Health Care- Deciding on which types of insurance you need can be difficult, we recommend that you speak with an insurance professional to help you decide how much you need to spend on health care and explore affordable types of savings you need.
Utilities- These include electric, gas, water, electricity, waste management and internet. Make sure you pay close attention to each bill to see if you can cut back on usage, to bring down your cost of living.
Groceries – Groceries are a mandatory expense for everyone however it is important to properly categorize your grocery bill to get a better understanding of your expenses. Try to separate your grocery list when possible, you will want to separate food items from things like alcohol, medicine, hygiene, and beauty supplies.
Childcare- This is a necessary category for some parents and needs to be included in the budget to know how much needs to be set aside each month.
Investments- Everyone's savings and investment goals are unique to their current situation but is important for all to include them in their budgets. There are different types of savings and investments that need to be budgeted for, we recommend that everyone has an emergency fund to cover the cost of unforeseen events. You should try to set a percentage of money that you are comfortable with into a savings or investment account each month to help pay off debts or invest money to reach goals quicker.
Debt- This is a necessary category for some and it is important to prioritize paying off debt quickly. Consider cutting back spending on the categories below to allow you to pay off your debt.
Gifts- With so many holidays, weddings, birthdays, anniversaries and other reasons to celebrate and give gifts. These are hard to plan for as they are not all scheduled events, so each month and year will be different. You can create your own gifts, offer to do a service for them instead of a gift or simply cut back on the amount you spend on each celebration. Consider signing up for a holiday savings account to help save money for the Holidays.
Clothing- Try to cut back on spending on clothes by buying new clothes less often and wearing clothes until they need to be replaced. You can also buy and sell used clothes online or at a consignment shop to get quality clothing at a fraction of the price.
Memberships- These include streaming services, gym memberships, season tickets, and other subscriptions. Try to find more affordable or free alternatives for these memberships. Also, try to avoid signing up for auto-pay or trial periods. Often time's people will forget to cancel a service and will end up paying for services that they are not using.
Entertainment- This is a broad category that includes spending money on anything you do for fun. Try to cut back on going out to dinner, movies, and events by cooking at home and doing free activities like going to a park, game boards, cookouts, beach, or riding bikes. Also, watch how much you are spending on material things such as toys, decorations, electronics, games, and recreational vehicles.
Travel- Travel can take a large chunk out of a budget, once your account for plane tickets, hotels, car rentals, eating out and activities the cost can seem overwhelming and can derail savings goals. Try to plan a staycation, take fewer trips or plan cheaper vacations that you may not need to travel as far to.