Credit Score Happily Ever After
By:
Old Point National Bank / 16 Feb 2017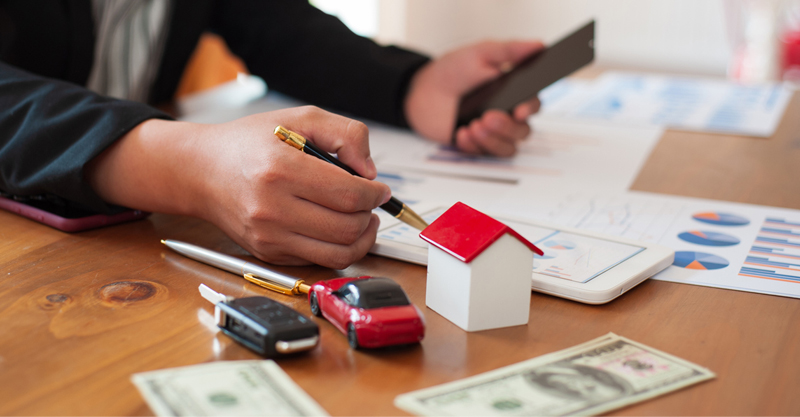 When it gets down to it, the dust settles from your nuptials, and the honeymoon is over, it's time to get you and your spouse's worlds in order. Melding two distinctly different lifestyles and financial habits can be a little tricky, but one of the things that will help ease both of you into a happy financial future is to start "happily ever after" with cuddling up to your credit.
Perhaps you've been together for a long time or maybe your relationship is only a few dates in, but getting some simple financials hammered out while understanding couples credit will help in the long run when it comes time for financing a vehicle, home, or business. Here are some thoughts on combining credit in relationships.
1. Cozy Up to Your Credit Report
The best starting point for combining credit is to get your credit report from any of the big three reporting agencies: Equifax, Experian, and TransUnion. Each credit reporting agency is required by law to give you one complimentary credit report each year, so getting and knowing your credit report is a great place to start for both you and your significant other. While credit reports are free, credit scores often are not.
Credit scores are used by lenders to tell how good of a borrower you are and how well you've handled your debts in the past. Credit reports are used to generate credit scores, and while you can get free credit reports, credit scores are often paid services offered by each of the reporting agencies.
Start with one credit report from one reporting agency for you and your loved one and make sure there aren't any discrepancies. If there are, call the credit reporting agency and get them resolved as soon as possible.
2. Eliminate Unnecessary Credit Cards
Your credit is largely affected by how well and how efficiently you pay off your debt obligations and how well you manage the credit you have. Credit cards can be a killer to an otherwise unblemished credit score as both the amounts you owe (35%) and your payment history (30%) collectively comprise over half of your credit score. Carrying a balance on your credit cards can ding both of the aforementioned aspects of your credit.
New couples are particularly prone to having an unnecessary amount of credit cards between the two of them. While there isn't one perfect solution for every couple, debt consolidation, balance transfers, and closing credit card accounts is the way to get started.
Start by paying off the lowest credit card balance, then close the account upon completion of this task. Your diligence in making payments to those accounts as well as reducing what you owe will make life much easier for you and your spouse.
3. Pay Bills on Time
As we've already mentioned, payment history makes up a third of your credit score, so it stands to reason that paying your bills on time can only improve your credit. Relationships are tricky things, and opposites really do attract.
While you may have always stayed on top of your personal finances before combining them, your significant other may have been a little lackadaisical with his or hers. Start a new precedent by paying everything on time and in full.
4. Boost Your Credit with a New Line of Credit
As you and your loved one merge worlds, one thing you can do to improve your collective credit is to take out a new, safe line of credit. A loan of some type can account for another third of your credit score by establishing a new line of credit (10%), building a lengthy credit history (15%), and adding credit to your existing mix (10%). This, of course, should only be done after your existing debts are paid in full and you've established some savings of your own.
One of the best ways to diversify your credit is by buying a home and taking out a mortgage. With interest rates hovering around all-time lows, there really isn't a better opportunity to boost your credit by purchasing a home. The first step in the home buying journey is to get prequalified through Old Point Mortgage. The professionals at Old Point can assess your financial goals and get you the funding you need to move into a house and get your couples credit on the right track.