Tips to Prevent Flooding in Your Yard
By:
Old Point Mortgage / 25 Aug 2020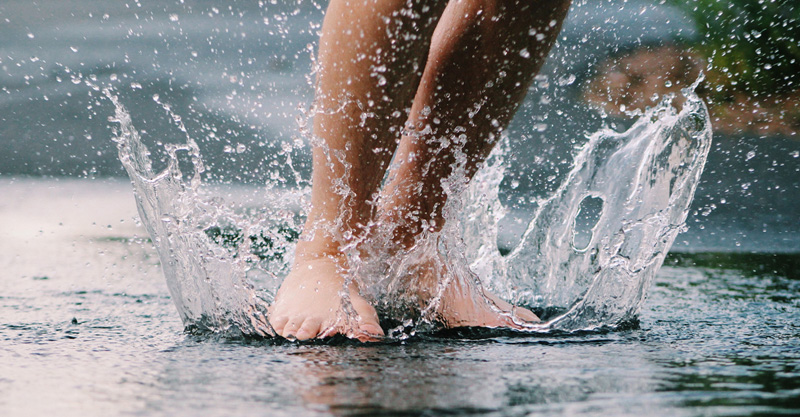 It is important to take extra precautions for water damage from flooding in your yard to protect yourself from costly damage to your home. Here are some tips on ways you can help protect your home from flooding.
Create a rain garden- If you have low-lying areas in your yard that are constantly filled with water you can turn the puddle into a rain garden. Fill the area with porous soil with plants, we recommend plants that are indigenous to the area or ones that do well in swampy conditions. You can look up plants that are local to the area and see which ones are best to control erosion provided by the Virginia Department of Environmental Quality Here. You can also direct water from areas that are prone to flooding by creating a trench or by installing pipes that lead to your rain garden. This will help drain your yard and will look nice as well.
Direct water away from the home- Be sure that the ground is sloping away from the home in all directions. Flooding generally occurs in low areas of the yard and elevating these areas can effectively prevent flooding. You can elevate low areas by adding topsoil and mulch which will stop the rainwater from building up. Be sure that your pipes, drains, and vents are not negatively affected by the process.
Extra care for your lawn- You can plant new grass to reduce flooding, research which kind of grass is the most effective for absorbing water in your area. Make sure that you do not cut your grass too short, cutting the grass too short can weaken the root structure and can lead to flooding.
Install a rain barrel- Rain barrels are a great way to collect water to protect your home from flooding and is an eco-friendly way to water your lawn and plants.
Install a French drain- French drains collect excess water in perforated pipes and release the water evenly throughout the ground. To install you will need to dig a trench in the flooded areas of your yard and place a perforated pipe and cover with gravel to protect the pipe from clogging.
Install a sump pump- They work by removing the water from the soil and collecting it in their specially dug pits. Once the pit is full, the water is pumped away through a drainage pipe that drains the water at a safe distance.
Install dry wells- You can install the plastic wells underground surrounded by gravel to collect water that will be slowly dispersed. The water will slowly build up and will prevent flooding by slowly releasing the water. You can add pipes for added control of where the water will be directed.
Flood Insurance- Flood damage is not covered in most home or property insurance policies. Consider purchasing a separate flood insurance policy to protect yourself against this most common natural disaster. Old Point Insurance can help you determine the right kind of coverage you need to stay protected. We take the time to create a policy that is customized to your needs so that you have the insurance plan that will protect what matters most to you.
Contact us at 757.224.1463 or info@oldpointinsurance.com to learn more about our insurance options.